Astana (officially Nur-Sultan), the remarkable capital of Kazakhstan.
By John Coles, October 2019.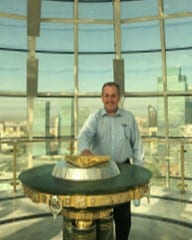 At the summit of the Baiterek Tower the handprint of Nursultan Nazarbayev, the first president of the post-Soviet Republic of Kazakhstan, is cast in gold.   Visitors are encouraged to place their hand into the cast and make a wish.  My guide did not know the success rate of Kazakhstan's curious take on the traditional wishing well, but she certainly knew the height of the tower: 97m, which commemorates the year when Nazarbayev's government transferred the capital from Almaty in the south, to the small city of Akmola, located on the vast flat landscape of the northern steppe.
The transfer of the capital echoes the decision of the British Raj, almost a century earlier, to move India's capital from Calcutta to Delhi. 
Edwin Lutyen's creation of New Delhi as a monumental capital was mirrored in Japanese architect Kisho Kurokawa's masterplan for an imposing futuristic capital to reflect the aspirations of the newly independent nation.
Renamed Astana (and recently renamed Nur-Sultan) the city was built on an east-west axis with the Baiterek Tower at the centre.  To the east is the blue dome of the president's palace, the parliament, and the supreme court.  To the west are the offices of the national oil company, the state broadcaster, and the convention centre.  Astana's growth has been relentless, with today's population in excess of one million, the city boasts new universities, cultural centres and sporting arenas.  (Astana will host Man. Utd. on 28th November in the Europa League.) 
In 2017 Astana held an international Expo on the theme of "future energy", with the central pavilion in a huge glass ball reportedly the world's largest spherical building.  Astana's portfolio of curious buildings includes two designed by Norman Foster: a steel and glass pyramid to house the triennial Congress of Leaders of World and Traditional Religions, and a curvy tent-like structure to house a shopping centre.  Being Astana, this is no regular shopping mall.  The upper floor has a beach, complete with sand and palm trees, a thoughtful amenity for residents of a city which is 1,500 miles from the nearest coast.