An Adventure in Indochina.
By John Costello, November 2019.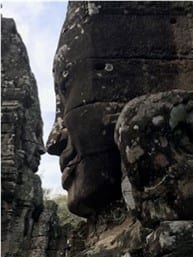 When my wife, Mary, and I started planning an expedition to Indochina we were aware that our schedule was going to be 'far from leisurely'.  But with John's help we worked out a practical itinerary to see the highlights of all three countries Vietnam, Laos and Cambodia.
John arranged for us to have an English speaking guide and driver everyday which gave us some flexibility to adapt the itinerary, but we surprised ourselves and were able to keep up with other tourists less than half our age.
We started our Indochina adventure by flying from Gatwick Airport to Ho Chi Minh City, with Qatar Airways, via Doha, on October 22nd.  We chose Qatar because the business class fare was 40% of the British Airways quote.
During our 18 day trip we took four local flights: Ho Chi Minh City to Hanoi, Hanoi to Luang Prabang (Laos), Luang Prabang to Siem Reap (Cambodia), Siem Reap to Ho Chi Minh City.  Flying the circuit in an anti-clockwise direction mean we kept the most spectacular Angkor Wat to the end.
At each location we stayed in the best hotels.  (Hotels of a quality and standard of service we could not afford in Europe.)  We enjoyed the local street food in all countries, but in the main, had our evening meals at the hotel or established restaurant.
The activities we enjoyed throughout the trip were so diverse that we cannot select any one as being better than another.
The Vespa trip through the bustling colourful old district of Saigon was fun. It seemed like the entire population was on a bicycle or motorcycle.
The day in the Mekong Delta known as the rice bowl of Vietnam was educational.  Taking a small river boat past padi fields, fruit orchards and floating markets gave a view of the simple lives that the locals live.
The overnight cruising in Halong Bay was simply wonderful being up on deck at dawn to see the limestone peaks emerge out of the mist.
Luang Prabang is a delightful small town with lots of character and  active monasteries.  It was humbling to join the locals at dawn offering rice to the Buddhist Monks making their daily alms round through the town.
Angkor Thom and Angkor Wat simply have to be seen to be believed.  The complex is vast and varied.  Some temples have been restored others are still trapped in the jungle.  It was worth another early morning to see sunrise over Angkor Wat.
We learnt so much on this trip.  It's nice to enjoy a holiday and have a geography and history lesson at the same time.  We are currently in the early planning stages of a Bhutan and Nepal adventure.