Christmas on the Queen Vic.
By Brian Coles, December 2019.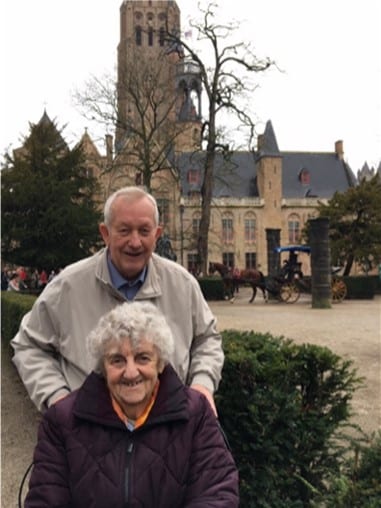 As we drove into Southampton port and caught sight of the Queen Victoria our first impression was of the size and elegance of the ship. That elegance continued as we boarded the ship to be greeted by a choir singing carols and escorted to our cabin by a bellboy in a bright red uniform.
No expense has been spared in the design of the ship. The furniture, wood panelling and carpets are top quality and framed paintings and photographs evoke the image of a luxury liner. Christmas decorations throughout the ship, on every door and every table, created a festive atmosphere.
Winnie and I liked the formality of dining in the Britannia restaurant and we were pleased to see everyone dressed up for the Saturday gala night. We spent the evenings relaxing in the ballroom listening to the big band and watching the ballroom dancing.
On Sunday we disembarked and took a short coach ride to Bruges.  The weather was a little damp, but we reached the main square and found a cosy café and ate waffles on the covered terrace.  As the rain started to fall, we stayed for a traditional lunch of beer and mussels.
I had been apprehensive because Winnie is not so mobile these days, but embarkation / disembarkation was easy with a wheelchair and with the assistance of the helpful crew.  I recommend this cruise to anyone with mobility problems as the entire ship is easily accessible and all facilities are on board.
However, we were surprised to discover that the cruise is not only for old folk like us.  It was nice to see many family groups with grandparents, parents and children travelling together and having fun.  A truly wonderful way to celebrate Christmas.