A Birthday at Victoria Falls
By John Costello, January 2019.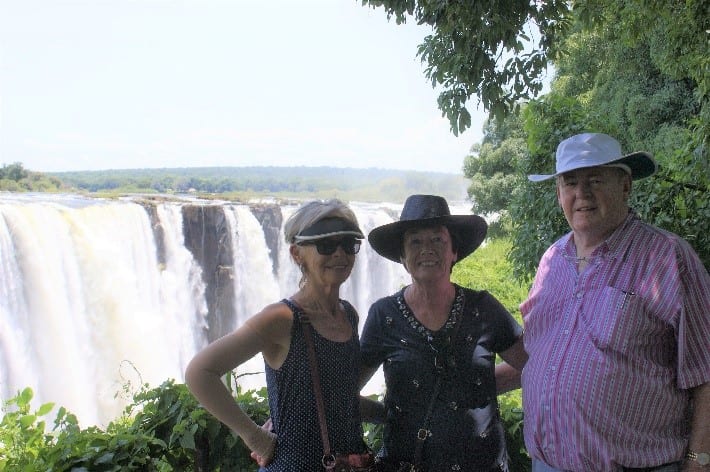 Post a January holiday in the garden route area of South Africa, a location we visit regularly, my wife Mary and I decided rather than flying back directly to UK, to make a three day trip to Victoria Falls.
We travelled on Mary's birthday and were pleasantly surprised to be upgraded, to business class, on the Comair flight.  Victoria Falls Airport is a relatively new airport, built by Chinese Exim bank funds, situated 18 km from the Victoria Falls. We obtained our Zimbabwe visas on arrival, collected our luggage and were at the Victoria Falls Hotel about an hour after landing.
The Victoria Falls Hotel is an old colonial hotel built over a century ago. It is sprawled over several acres, and has the most attentive staff (plus a few wild monkeys) of any hotel I have ever visited. We were upgraded to executive rooms, thanks (I suspect) to John having met the hotel general manager at the World Travel Market in London, last November.
Unlike several of the younger arriving guests, we didn't rush off to the Falls that afternoon. We enjoyed British style 'afternoon tea' and several hours later had a formal dinner at the Livingstone room restaurant in the hotel. Wonderful food, wine, service and resident pianist.
The following morning, after breakfast in the semi-open thatched roof dining complex, we headed for the falls proper (walking distance).  The turnstile entrance to the Victoria Falls Park was rather 'third world'. There was a complicated range of charges, depending on your passport.  There were tourists from all over the world at Vic Falls, however not in huge numbers.
The falls were a 10 minute stroll from the park entrance. For us a definite stroll…..35 degrees centigrade at 11 am. There are 15 viewing points at the falls. Time needed to enjoy all locations and views…..1 hr 30 min to 2 hours.  No real  hassle from potential guides etc.  Just tourists with bigger and better cameras!! In January the water flow is at its minimum. Hence great photos. By June, water levels will     double, much more 'mist'… like a tropical rain forest.
We embarked on two other tours at Victoria Falls; an evening dinner steam train ride across the bridge into Zambia, which gave another viewing aspect of the falls, and an evening dinner cruise on the Zambesi river. The cruise was wonderful….good food and drink …multiple sightings of crocodiles and hippo's.
Being OAP's, we did not attempt the various bungee jumping opportunities.  Not being helicopter fans, we avoided those popular Victoria Falls viewing trips also.  Because we have been on several safaris in South Africa, the safaris available around Vic Falls were not on our priority list.
Neither were the 'walking with elephants' and 'walking with lions' tours. Over the years, we have walked with elephants in South Africa so often that they now recognise us. The lions…. we simply don't trust.
Our thanks to John Coles, for his diligence, in arranging the most unforgettable three days of our lives.
Upon our departure from Victoria Falls airport, Mary was first to the lady immigration officer, who asked 'is the young man behind you, your husband?'  I'm still dining out on her comment.