By Sarah Andrews, February 2022.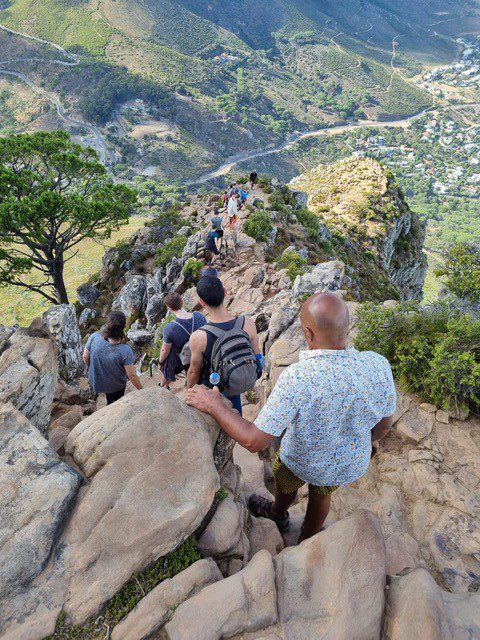 South Africa is one of the most exciting and interesting areas of the continent in terms of scenery, history and culture, and an exciting destination for adventurous travellers. It is the part of sub-Saharan Africa which has been longest settled by Europeans, creating a   fascinating, but often tragic, story of indigenous peoples and settlers. The last thirty years have witnessed enormous cultural   changes as the country moves towards a progressive, inter-racial society. Today's South Africans are proud of the achievements of their relatively 'new' society.
Cape Town is noted for its setting below Table Mountain and the views do not disappoint. Most    tourists take the cable car to the summit of Table Mountain, but   locals recommend a walk up the conical shaped Lion's Head Mountain for a spectacular 360 degree vista of the city and surroundings.  The route we followed turned out to be quite a stiff hike and we found ladders, cables and chains installed to help us ascend the steeper sections near the summit. But it's worth the effort and a wonderful viewpoint from which to gain a perspective of the city, the Cape Peninsular, and the Southern Ocean.
For a change of pace, we drove east to Plettenberg Bay and the delightful Emily Moon hotel on the banks of the Bitou River. From the terrace we enjoyed views over the wetlands and the mountains beyond. The hotel is filled with an eclectic collection of treasures gathered by the owners during their travels through Africa.
The climax of our trip was the Kwandwe game reserve in the Eastern Cape. Our expert guides helped us tick off the 'big 5' in style, even the elusive leopard. We learnt how Kwandwe is part of a 'rewilding' project. The European settlers had cleared this region for farming.  Now the farms are being restored to a natural environment and native plant and animal   species reintroduced.  It's nice to see how tourism is providing the impetus and funding for this conservation work.